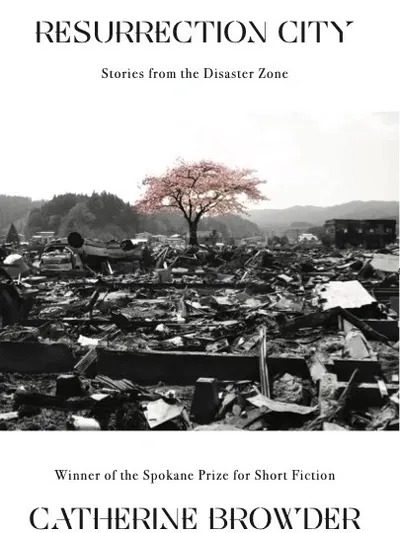 Resurrection City: Stories From the Disaster Zone
Winner of the Spokane Prize for short fiction.
Residents and American expatriates in Northeast Japan deal with the aftermath of "3.11"—the Great East Japan Disaster of 2011.
Inspired by the 2011 triple disaster that devastated the Tohoku region of Northeastern Japan, Resurrection City takes the reader on a journey through communities rocked by each facet of the disaster—earthquake, tsunami, and the nuclear meltdown that followed. Browder's stories provide a deeply human perspective on a disaster whose impact was often relayed in the form of statistics, soundbites, and clips. The reader is reminded that no matter the magnitude of a disaster, real human stories of heartbreak, resilience, survival, and love exist and must be told if communities impacted by such tragedies are to heal.

"Catherine Browder's short stories represent both the best of fictional talent—invigorating readers with memorable, authentic characters—and great reportage. Readers actually learn things, not only about Japan's earthquake and tsunami disaster of recent years but about Japan's culture. The blend of imagination, first-hand experience, and real knowledge remind me of the great internationalist writers Martha Gellhorn or Joan Didion…."
— Robert Stewart, The Narrow Gate: Writing, Art & Values
"In Resurrection City: Stories from the Disaster Zone… the characters are living in the meanwhile of grief, where the past—in this book, March 11, 2011, triple disasters in east Japan...—still occupies the present, and they must navigate their ways through the many dark folds of grief and bewilderment. Like a rosary, these stories are like beads, each individuated, each infused with prayers—as one of her characters says, "I've come to a conclusion these conversations are the only way I know how to shape a prayer"—in order to resurrect the dead—and themselves—from the past."
— Mariko Nagai, author of Irradiated Cities
"…Sensitively and compassionately, Browder presents lives affected by disaster… "Adrift," a novella, is a tour de force. Browder follows an island of debris as it drifts across the ocean—bits of tragedy, a symbol of loss that touches the world. Resurrection City is a beautifully written, powerful work."
— R. M. Kinder, author of A Common Person and Other Stories
Podcast interview with the author at the Northeast News: "Resurrection City" with Catherine Browder Podcast interview on ArtSpeak Radio, KKFI, with host Maria Vasquez Boyd (forthcoming May 31):
Available through the publisher, Willow Springs Books (www.willowspringsbooks.org) at: wse.submittable.com