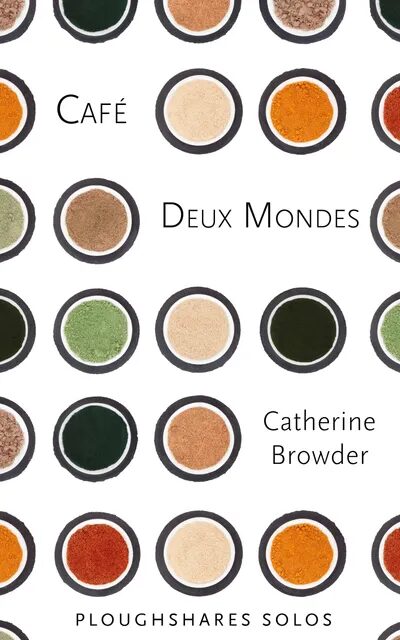 When the Khourys and McKissicks meet to share a neighborly meal, an adventure begins.
Living in the changing ethnic landscape of Kansas City, one is a family of Syrian immigrants; the other is African American with roots in Louisiana. What brings them together is a love of food. Along with friendship, a dream takes root between the two mothers, Miriam and Tamara—starting a new restaurant that will feature the specialties from both of their traditions, the Café Deux Mondes or Two Worlds Café. Little do they know just what they are up against when they begin their little venture. From the skepticism of their churches to neighborhood crime, disaster always seems to be just around the corner. Award-winning writer Catherine Browder takes a warm look at the troubles and joys of the American melting pot and how we can grow even from our failures.

"Tamara is a nice, middle-class black woman in a classic, though run-down Kansas City neighborhood… Like the greater world, her neighborhood is multicultural, hosting not only blacks, whites, and Latinos but also middle easterners. Tamara fights against stereotypes to become friends with Miriam, a Syrian/Palestinian who ought to be Muslim but is Christian like herself. The two found a restaurant called Café Deux Mondes… overcoming myriad obstacles, chief among them their own inexperience, while their bemused families looked on and finally joined in the proud endeavor. The story is an almost ironic tribute to American enterprise, but Browder allows multiculturalism to show its ugly side: a botched burglary by a cherubic young Mexican the women had begun to trust and a shooting almost at the door side. Such scenes deepen the story's impact, and altogether the widely-published Browder has fashioned a dense, polished narrative with a fine mastery of characterization reminiscent of Dickens. CAFÉ DEUX MONDES is very good to read in troubled times, and perhaps, with all the descriptions of food, at Christmas." – John Mort, author of THE ILLEGAL
Available: Ploughshares Solos as an e-book from Kindle Single & Audible. Amazon Barnes & Noble as Ploughshares Omnibus 3 (paper).