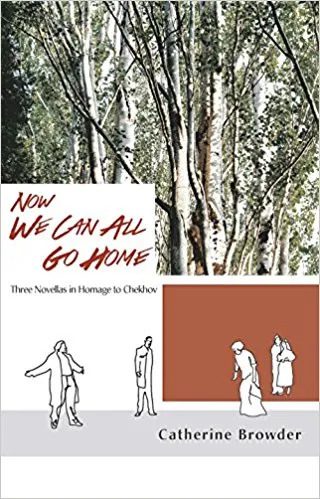 Now We Can All Go Home:


Three Novellas in Homage to Chekhov
Yelena of Uncle Vanya meets a man more appealing to her than Astrov; Irina of Three Sisters must deal with life and work after the death-by-duel of her fiancé, as must her sisters; and Dr. Dorn of The Seagull narrates the lives of his friends on the old estate after Kostya's suicide. The novellas offer us a glimpse into the imagined lives of eight major Chekhov characters after the curtain has come down.

"… Her experiment—to allow Chekhov's characters to live and love long after the theater has gone dark—has resulted in a thoroughly satisfying collection that is a worthy homage to the great Russian playwright."
—Foreword Reviews
"In a tour de force of the imagination, Catherine Browder deeply inhabits the point of view of central characters from three Chekhov plays—and creates the continuation of their lives in three convincing, charming and moving novellas."
—Jane Burroway, Losing Tim; Opening Nights
"… Exhibiting a major literary talent of her own, Catherine Browder does Chekhov's plays and the characters that inhabit them a full measure of justice with new and imaginative storytelling that rivals Chekhov himself. Erudite, ingenious, original, and vivid…."
—Wisconsin Bookwatch
NOW WE CAN ALL GO HOME is Available: on Amazon.